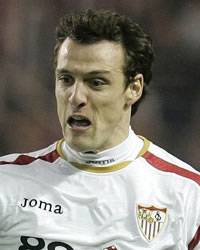 Arsenal manager Arsene Wenger has today confirmed the signing of French centre-back Sebastien Squillaci fromSevilla.

The Spanish club had announced at the weekend that a £6.5 million deal had been agreed between the clubs, nd today the Gunners have announced the capture of the French international

The 30-year-old centre-back will not be available for the weekend game against Blackburn Rovers but he will be eligible for the Champions League campaign, after he was left out of Sevilla's play-off with Sporting Braga.

Speaking in a press conference today, Wenger stated that he is in no doubt the Gunners have acquired a fine player who will suit the fast-paced style of the Premier League.

"We needed a centre-back of quality and experience if possible, and at the right price - he was all of that," Wenger told reporters.

"He is a real defender and is good in the one against one, good in the air, and can score goals on set-pieces as well.

"I believe he will be suited to the English game. He will train with us tomorrow morning, but will not be involved on Saturday."

Squillaci moved to Sevilla in the summer of 2008 from Ligue 1 side Lyon, and has been capped 21 times for France.